#57 – In today's dynamic digital landscape, video has emerged as the ultimate gateway to brand discovery. Are you ready to harness this transformative power and skyrocket your equine business? Jarred Goeckeler of HD360 Productions is here to share his top tips to help you do just that.
| ABOUT EPISODE 57 |
In today's dynamic digital landscape, video has emerged as the ultimate gateway to brand discovery. As millions immerse themselves in the realm of TikTok, Instagram, and YouTube, new favorite brands are born, capturing the hearts of eager consumers. Meet Jarred Goeckeler, the visionary force behind HD360 Productions, as he joins The Leadline Podcast to divulge his top equine video marketing strategies for horse business owners. From crafting simple video content to magnetizing customers, he's got you covered!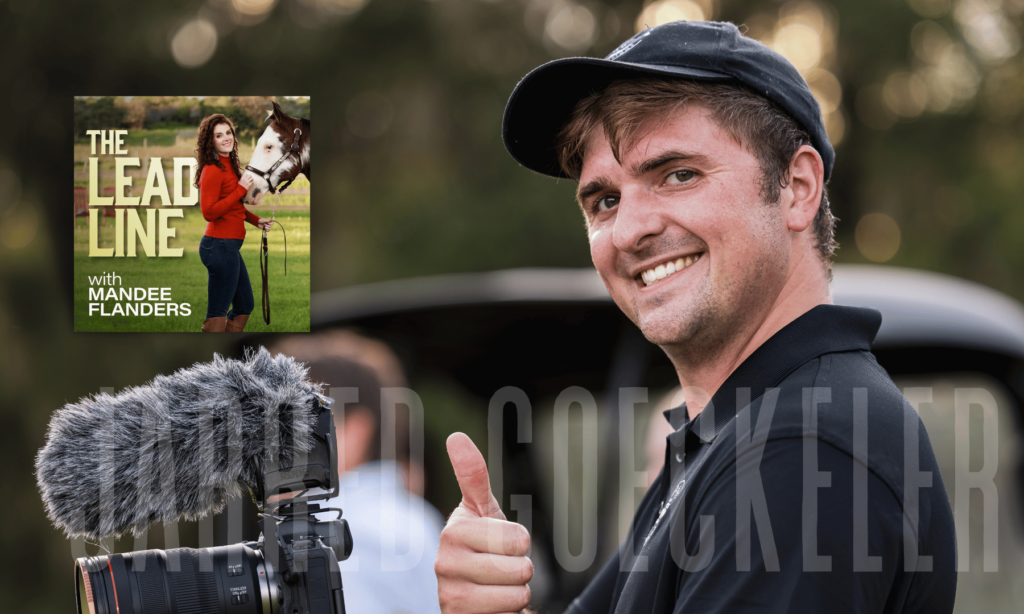 WHAT YOU'LL LEARN:
00:00:39 – Why Video is Important for Equestrian Entrepreneurs
Jared discusses how video is a powerful tool that can convey emotion and showcase products or services. He also notes that video content has seen a surge in popularity in recent years, and that it can be used to tell stories and create connections with audiences.
00:04:53 – Creating Engaging Equine Video Content
The conversation delves into capturing the attention of viewers by creating content that makes them feel something. Jarred emphasizes that content should be tailored to the audience's preferences and that shorter, snappier videos are better for social media platforms like TikTok and Instagram. Longer-form content is better for platforms like YouTube.
00:11:10 – Getting Ready to Hit Record
Jarred acknowledges that some entrepreneurs may want to shoot video content themselves, and emphasizes the importance of having high-quality videos that capture the essence of the business.
00:13:12 – Importance of Lighting and Movement in Video
Lighting and movement are two important factors to consider when creating equine video content. Good lighting will ensure that the subject is visible, while movement adds interest and entertains the viewer's eye. Smooth movements and depth can also add a unique touch to videos.
00:15:13 – Editing Video Content on Mobile Devices
Mobile devices can be used to edit videos with ease. Apps like InShot and CapCut allow users to trim, add captions, and overlay photos. This makes it easy for anyone to create quality content without having to invest in expensive software.
00:19:24 – The Importance of Testimonial Videos
Testimonial videos are valuable assets for businesses because they provide social proof and show the authenticity of the business. Video testimonials are more engaging, and potential clients can discern the emotion and inflection of the client's voice in their recommendation.
00:24:47 – Creating a Conversational Environment 
The best testimonial videos are conversational and fun. No need to script the whole conversation; instead, make it a comfortable and relaxed environment. Repeat the questions asked to make the editing process easier.
00:28:30 – Getting Professional Video Help
Jarred suggests starting with a brand video to convey who you are, what you do, why you do it better, and why people should contact you. Testimonial videos and a quick commercial are also helpful. Jarred also mentions that educational videos, product videos, and drone videos can be great assets for businesses.
00:32:01 – DIY vs. Professional Video Production
While DIY can be great, outsourcing may be necessary for those who don't enjoy it or simply don't have the time. However, DIY can help businesses get started and allows for creativity. Jarred advises figuring out the creativity and vision before reaching out to a videographer or photographer.
Sample Brand Video by HD360 Productions:
Connect with Jarred Goeckeler:
+ Website
+ Instagram
+ Facebook
*****************************************************************************************
Thank you to our podcast editor, Victoria Brock, for all of her amazing work on this episode! If you're enjoying the podcast, be sure to join our Email Club to learn more about online equestrian business workshops, upcoming events, networking opportunities, and more.