#54 – Mary Campbell of Mare Modern Goods discusses her mission to create an inclusive equestrian community, as well as the importance of authentic branding and why it's okay if your brand isn't for everyone.
| ABOUT EPISODE 54 |
As the founder of Mare Modern Goods, Mary has firsthand experience in establishing a unique brand in the equestrian industry that invites openness, inclusivity, and self-expression. She shares how her personal journey and love for horses have shaped her business, providing valuable lessons and insights that you can apply to your own equestrian venture.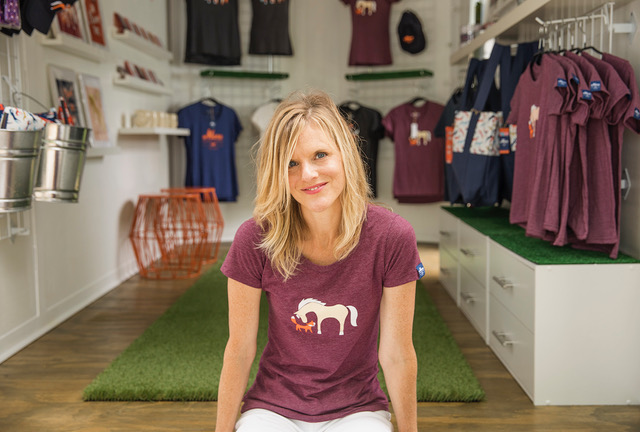 Meet Mary Campbell, founder of Mare Modern Goods.
Mary started her journey with a mission to make the equestrian world more inclusive, but what she ended up finding was a deeper connection with her customers – a connection that was rooted in embracing authenticity and vulnerability. Little did she know, this unexpected twist in her story would lead her to cultivate a community of people who share her passion for horses and the transformative power they possess.
As she immersed herself in the equestrian world, she quickly noticed barriers to entry, such as cost and the perception that it was solely for the privileged. Determined to create a more inclusive equestrian community, Mary focused on showcasing a diverse range of people and experiences in her brand. She believes that by sharing authentic stories and being true to herself, she can inspire others and create a genuine connection with her audience. Through her journey, Mary has learned that being open and honest leads to stronger relationships with customers and a more supportive community.
In this episode, you'll learn how to:
1. Develop an inclusive equestrian community through authentic branding practices.
2. Utilize social media effectively for honest communication and business transparency.
3. Foster self-expression and celebrate individuality within the equestrian culture.
4. Adapt and modify business tactics for lasting success in a competitive market.
Authentic Branding in Business
In today's competitive business landscape, authenticity in branding is essential for differentiating oneself and establishing a unique identity. Consumers are growing more aware of the brands they choose and prefer ones that align with their values, beliefs, and lifestyles. As such, businesses that are authentic and true to their identity tend to resonate with target audiences, fostering a deeper emotional connection and driving customer loyalty. Genuine branding also fosters trust, as consumers can count on the brand to consistently uphold its values and be transparent in its operations. Mary Campbell is a prime example of an entrepreneur who champions authenticity in branding. In her interview with The Leadline, she discusses her passion for creating an inclusive equestrian community by staying true to her brand's vision and mission. Campbell believes that appealing to everyone would only lead to losing one's unique identity, and that it's better to remain authentic in order to attract the right customers. Her commitment to creating a welcoming and relatable brand has been key to her success and serves as an excellent example for equestrian business owners seeking to improve their own branding and self-expression.
CHAPTER MARKERS:
00:03:27 – Inclusivity in the Horse Industry: Mary discusses the importance of inclusivity in the horse industry and how she aims to make it more accessible through her brand.
00:06:22 – Authenticity in Branding: Mary talks about the importance of being real and showing the ups and downs of running a business in order to create relatable content.
00:09:30 – Balancing Authenticity and Professionalism: Mary shares her thoughts on finding a balance between authentic branding and messaging.
00:11:32 – Learning from Mistakes: Mary shares a personal experience of posting something tasteless and the importance of learning from mistakes and moving forward.
00:13:25 – The Importance of Storytelling and Authenticity in Business: Mary talks about the significance of sharing genuine stories and struggles in business. She emphasizes the importance of being honest and authentic in representing oneself and the brand. Mary also shares tips on how to attract the right customers and grow the business by focusing on the target audience.
00:18:00 – The Evolution of Mare Goods as a Brand: Mary talks about the process of starting a business and the importance of patience and refinement. She shares her experience of starting with a few products and gradually evolving the brand to reflect her personality, style, and love for horses. Mary also talks about the role of bold colors in the brand and how it reflects the joy of being with horses.
00:22:46 – Creating an Authentic Brand Identity: Mary talks about the significance of creating a unique brand identity and standing out in the market by offering something different. She emphasizes the importance of being welcoming and inviting to customers and creating a positive experience through the brand's aesthetic, messaging, and values. Mary also talks about the significance of feedback and affirmation in the journey of a solopreneur.
00:25:34 – Embracing Imperfection and Letting Go: Mary talks about the obsession with perfection and the need to let go of the fear of making mistakes or being criticized. She emphasizes that mistakes are part of the learning process and that one should not be too hard on oneself. Mary also talks about the significance of staying true to oneself and embracing imperfection to build an authentic and relatable brand.
Connect with Mare Goods:
+ Website
+ Instagram
+ Facebook
*****************************************************************************************
Thank you to our podcast editor, Victoria Brock, for all of her amazing work on this episode! If you're enjoying the podcast, be sure to join our Email Club to learn more about online equestrian business workshops, upcoming events, networking opportunities, and more.