#52 – British equestrian oil painter and the official artist in residency at the UK's Cheltenham Racecourse, Emily Johnson, shares her inspiring story of pursuing her dream by thinking outside of the box.
| ABOUT EPISODE 52 | 
Are you an equestrian entrepreneur wondering what strategies you can use to promote your art and business? Well, today you're in luck! Artist and equestrian entrepreneur Emily Johnson is here to tell us her unique story of how she created her own opportunity to become the official Artist in Residency for the Cheltenham Race Course in the UK. After a few years of self-teaching, Emily took matters into her own hands and got creative with her approach to creating an opportunity for herself. We'll outline how Emily Johnson did it in detail and explain 8 Proven Strategies to Promote Your Equestrian Art and Business. Tune in to the episode above to hear how you can do the same!
About Emily Johnson
Meet Emily Johnson, an incredibly talented and smart artist from the UK. Emily has always been passionate about art and equine science, so she decided to pursue a degree in equine science at an agricultural university. After working on a farm and doing art on the side, Emily decided to take the plunge and do art full-time. She took matters into her own hands and created an opportunity for herself when other doors weren't opening. She recently became the official artist in residence for the Cheltenham Raids course in the UK, an incredible opportunity that she created for herself.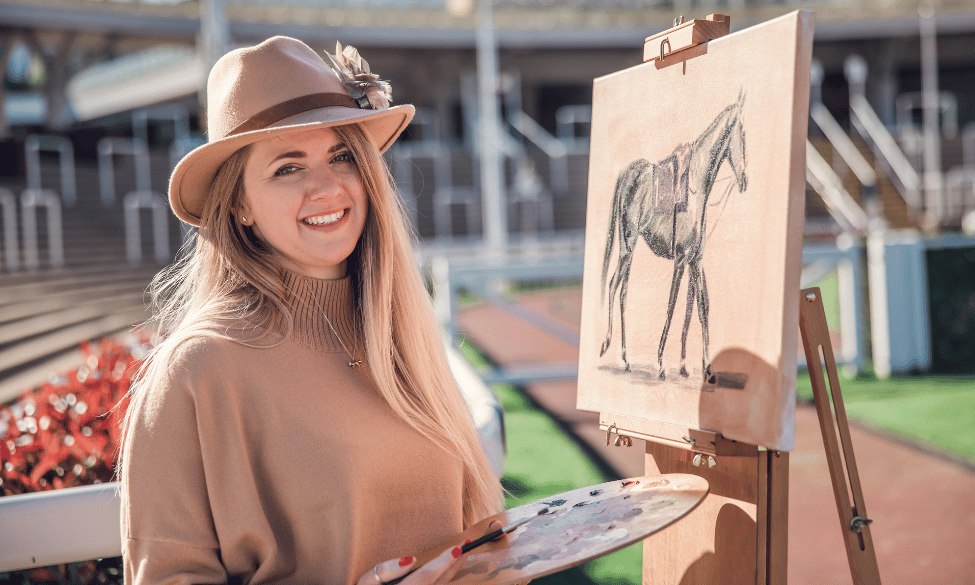 Why is it important for equestrian entrepreneurs to use unique strategies to promote their businesses?
It's important for equestrian entrepreneurs to use strategies to promote their businesses in order to build awareness, stand out in a competitive market, increase sales, and build credibility. By promoting your products and services, you can attract new customers, differentiate yourself from competitors, and establish yourself as an expert in your field. One way you can do this is by finding creative ways to build your own opportunities. Don't wait for them to come to you!
8 Steps to Creating Your Own Dream Opportunities
1. Do research to identify a potential opportunity.
2. Identify the right person to contact.
3. Pitch your idea.
4. Be persistent and patient.
5. Have a backup plan.
6. Be creative in finding ways to create opportunities.
7. Take advantage of any chance to promote your work.
8. Be productive and use your time wisely.
1. Do research to identify a potential opportunity
The first step in Emily's journey to landing her dream art residency was researching to find out if the opportunity existed. She found out that the Cheltenham Race Course, one of the biggest racing tracks in the UK, had once had an artist in residence previously and thought it might be a great opportunity.
2. Identify the right person to contact
Doing research to identify a potential opportunity requires researching and gathering information. Emily began to test the waters with the race course by calling their reception desk and asking for the contact of the person responsible for such decisions. After getting the email address, Emily sent the initial pitch email, but didn't hear back. She then broadened her search and sent out pitches to other racecourses, but still had no luck. Emily didn't give up and instead decided to create her own opportunity. She held an exhibition in a beautiful gallery and sent out invitations to the race courses. A few people from the race course started to follow her on LinkedIn, so Emily seized the opportunity to contact them and pitch her idea again.
After conducting research and gathering necessary information, it is important to analyze the data collected. Analyzing the data allows you to identify potential opportunities and develop a strategy. By analyzing the data, you can evaluate the potential opportunities and decide if they are worth pursuing or not.
Additionally, analyzing the data will help you identify any potential risks associated with the opportunity. It is important to assess any potential risks and develop a plan to mitigate them. Finally, it is important to create a business plan that outlines the details of the potential opportunity. A business plan should include a description of the opportunity, a projected timeline and budget, and a detailed marketing strategy. Additionally, it should include a description of the resources needed to pursue the opportunity, a risk assessment, and a clear strategy for achieving success. Creating a thorough business plan is essential to ensure that you are able to maximize the potential of the opportunity and achieve success.
3. Pitch your idea
Once you have identified the right person to present your idea to, reach out to them and make sure you explain your proposal clearly. Make sure to keep good records of your correspondence and follow up regularly. Emily Johnson's process is a good example of this. She was able to identify the right person to contact at the Cheltenham Race Course by making phone calls, researching the race course, sending emails, and staying persistent.
In addition to researching the right person to contact and being persistent in your outreach, it is important to make sure you are creating a compelling case. You do not want to be overly aggressive and risk turning the contact off. Instead, make sure your proposal is well thought out and that you are offering something of value in return. Consider ways in which you can add value to your contact and the organization, such as offering an incentive or providing a unique opportunity. You may also want to consider involving a third party in the process. For example, if you are looking for sponsors for an event, you could reach out to professional organizations or influencers in the community who could be of help.
5. Be persistent and patient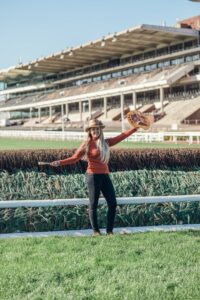 It's important to be persistent and patient when working to achieve a goal, especially when it's something that is unique and out of the ordinary. This is especially true when pursuing a goal such as Emily Johnson did – becoming an artist in residence at one of the biggest racecourses in the UK. Emily started her process by doing her research – she discovered that the race course hadn't had an artist in residence for some time. She then contacted the race course and tested the waters to see if they would accept her pitch for an art residency. When she didn't hear back from them, she didn't give up. She kept her persistence and patience, continuing to contact the race course and other similar facilities. She also created an exhibition for herself and sent invites to the race course. After a year and a half, she was finally granted the art residency that she had dreamed of. Emily's story shows us the importance of being persistent and patient when pursuing a goal. If you don't give up, you never know what you might be able to achieve.
"Entrepreneurship is about looking for opportunities and opening doors for yourself and walking through them." – Emily Johnson
6. Have a backup plan
Having a backup plan is essential for any equine entrepreneur looking to monetize or level up their earning potential in their passion. This is especially important when transitioning from a full-time job to a full-time business. One way to have a backup plan is to look for other opportunities in the meantime. Emily did this when she was trying to create her own art residency. She contacted different race courses, but when she didn't receive a response, she kept looking and found creative ways to pursue the opportunity.
Additionally, she supplemented her income with other jobs, such as bar work or working on a farm. By having different sources of income, she could take her time and not feel the pressure of needing to make enough money to cover her expenses. Having a backup plan is key for any equine entrepreneur, as it will allow them to transition into their new business without feeling too much financial pressure.
7. Be creative in finding ways to create opportunities
To create opportunities, first, you need to do your research. Find out what opportunities are available in your area and think outside the box about ways to create your own. Instead of competing with hundreds or thousands of other applicants, Emily took a unique approach and reached out directly to Cheltenham Racecourse, pitching her idea of an art residency. Brainstorm different ways that you can use your skills and talents to create opportunities. For example, if you are an artist, you could create a series of paintings for a museum or offer to teach classes at a local gallery. If you are a web designer, you could offer to design a website for a local business or you could create a course to teach others how to design websites. By being creative and taking initiative, you can create new and exciting opportunities for yourself.
The power to create opportunities is in your hands, so go out and make it happen!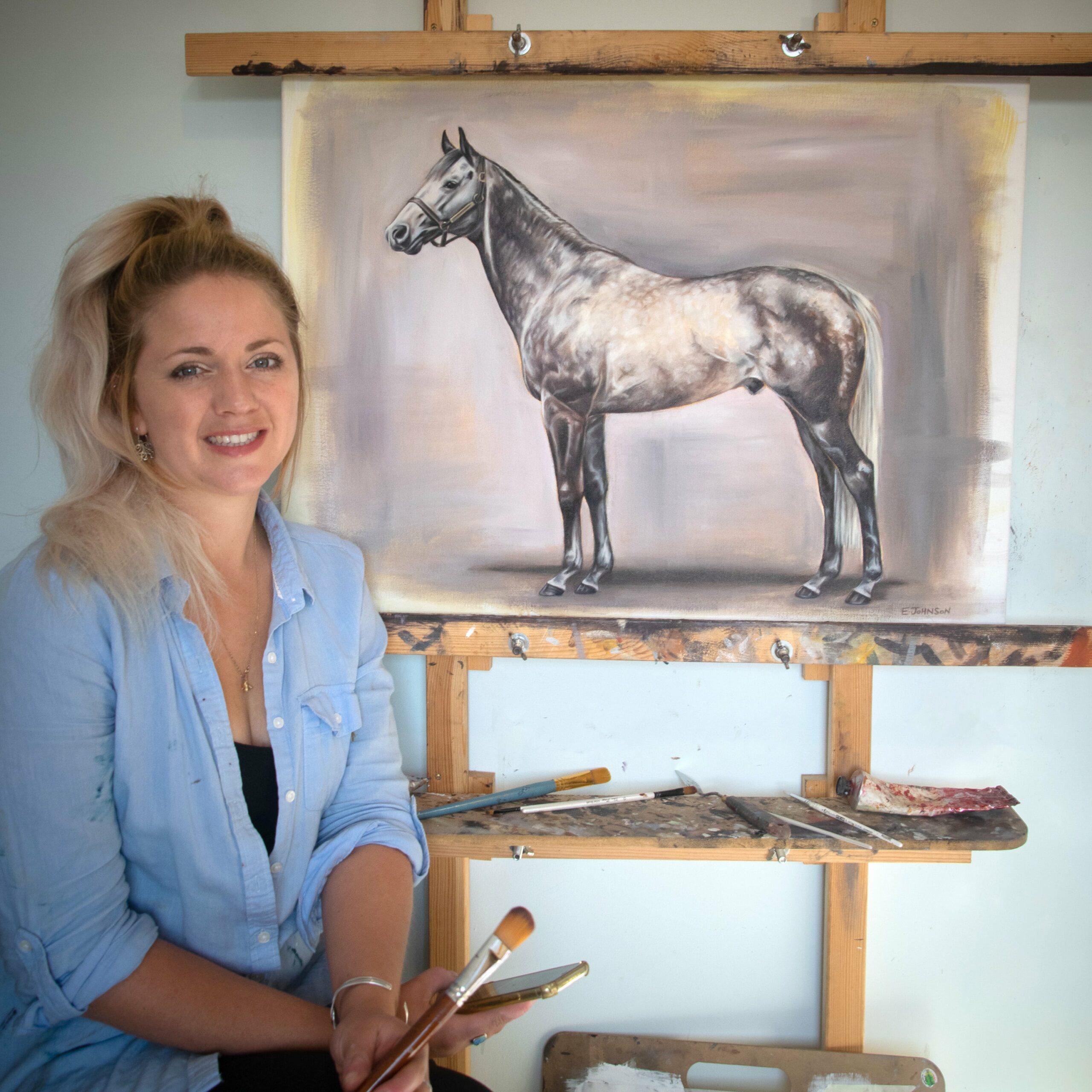 The story of Emily Johnson Fine Art, an equestrian entrepreneur who created her own opportunity to become the official Artist in Residency for the Cheltenham Race Course in the UK, is a great example of how to successfully promote your art and business. Don't give up and keep pushing for your dream– you too can create your own opportunity.
I'd love to hear how you apply creative, out-of-the-box thinking to achieve success, growth, and credibility. Leave me a comment on how it went for you or drop any questions below!
Connect with Emily Johnson Fine Art:
+ Website
+ Instagram
+ Facebook
*****************************************************************************************
Thank you to our podcast editor, Victoria Brock, for all of her amazing work on this episode! If you're enjoying the podcast, follow The Leadline on Facebook to connect with like-minded equine business owners and learn more about online equestrian business workshops, upcoming events, networking opportunities, and more.